What is "SAKURA" Japan Women's Wine Awards?
Message from Yumi Tanabe, President
The judging for the 8th Sakura Japan Women's Wine Awards was closed.
We are happy to announce that the judging took place as scheduled under challenging circumstances.
Thanks to all the judges and sommeliers who made it possible to carry out the mission.
In previous years the judging took two days in Tokyo by 560 judges.
Last October, we started planning on setting guidelines on safety measures due to the coronavirus outbreak.
In previous years, we had judges come from various areas, including Hokkaido and Okinawa.
This year, we had to avoid long-distance travel by the judges and judging was done in Tokyo and Osaka.
We intend to get judges from all over Japan to participate because it will help sell wine and spread the wine culture throughout Japan.
The Sakura Awards has three goals: finding wine suitable for home-cooked meals, increasing wine consumption, and expanding and supporting women working in the wine industry.
During the coronavirus outbreak, dining out has decreased, but the consumption at home has increased. The wine sale at supermarkets, department stores, and internet sales has expanded.
We receive many comments that the Sakura Award seals on wines represent delicious wines chosen by women judges in Japan and an assurance that goes well with their home-cooked meals. 
From retailers, we hear that the Sakura Awards' recognition has gone up, and they are happy to see many returning customers.
Despite this challenging time, we received the most significant amount ever of 4562 items from 32 countries.
This number shows the expectations in the Japanese market from these producers are greater.
We want to move on to future activities so that we can meet that expectation.
We put the utmost effort into conducting judging taking Infection Control Guidance. Thanks to all the judges who responded and cooperated, I believe they have chosen excellent wine selections.
Trade Only - Female Blind Judging Panel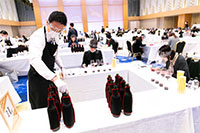 This competition has been judged exclusively by female wine specialists, namely sommeliers, winemakers, wine school educators, journalists, restaurant and beverage directors, retail store buyers, importers and distributors.
The 8th "SAKURA" Japan Women's Wine Awards
In 2021, the total entry of 4,562 wines were received from 32 countries, the largest entry ever! This unique competition evaluating wine from around the world from a woman's perspective has garnered interest globally and has set a new precedent for wine competitions.
The 100 point scale was used for selecting Double Gold, Gold and Silver medals.