About Us
I will introduce you the culture of Wine & Spirits.
I want to provide you a taste of joy like a biessed sense of tipsy and filled with intellectual curiosity.
Message by President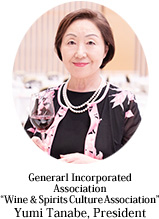 In 2011, I established "Wine & Spirits Culture Association", which is I long-sought goal for the purpose of contributing to the increase in the consumption of wine and spirits and also to the further development / promotion of the relevant industry.
As one of our activities, I are promoting Japan's first accreditation service of "Official Wine Instructor" on a nationwide scale. At the same time, these instructors are working to introduce the culture of wine and spirits in cities across Japan.
And at 2014, I started the first international wine competition judged by Japanese women who work in wine industry as sommelier, wine shops, wine importers and wine journalists.
I consider it one of our important missions to contribute to the vitalization of winery industry through passing on the impressiveness / the right information of wine to as many people as I can.
Further, I expect to widen the demography for wine and spirits by establishing / managing the relevant various organizations. Through these activities, I would like to make a further contribution to the formation of sounder drinking environment.
Description of Business
Development / education / training of human resources who work as an instructor.
Establishment /management /mediation of various kinds of organizations.
Publication and illuminating activities of wine and spirits.
Planning /operation / management of various kinds of event, contest, seminar and others.
Development /sales of various kinds of goods, software of lesson programs and books.
PROFILE of Mrs. Yumi Tanabe
President of Wine and Wine Culture Co.,Ltd.
President of Wine and Spirits Culture Association
Mrs. Yumi Tanabe was born in Ikeda, Hokkaido where Tokachi winery have been produced. Her father, Mr Kaneyasu Marutani, planned and started the production of Tokachi winery when he was a Chairperson of Ikeda town and later a member of the House of Councilors. (died in 2014)
She studied mathematics at Tsuda University and after getting a bachelor's degree, she took the course of Wine & Spirits at Cornell University in New York, USA.
In 1992
She established "Yumi Tanabe's Wine School" where many Sommeliers have studied and the total number of graduated students are more than 10,000. Simultaneously she visited many viticultural areas in the world as one of representative wine specialists in Japan and devoted herself to write columns and articles related wines.
In 2009
She was conferred "L'order du Merite Agricole" by French government for her contribution to extend wine culture in Japan.
In2013 
She established "SAKURA" Japan Women's Wine Awards which has 3 aims; activation of wine market in Japan, offering compatible wines to Japanese dishes and making opportunity for women to work in wine industry.
In addition, she has extended the activity beyond wine territory and involved in Cheese and Food field.
In 2015
She was appointed Honorary Principal of School for Wine Producers in Hokkaido.
Prize-giving
Chevaliers du Tastevin
Bontemps de Médoc, des Graves
Commanderie de Bordeaux
Ordre des Coteaux de Chanpagne
Chevaliers du Taste-Fromage
Publishing
Yumi Tanabe's Wine Book
Yumi Tanabe's Wine Note
California Wine
Guide of American Wine
All about South African Wine (2013) etc.